CRM THAT DELIVERS MORE FOR TECH PROVIDERS
Workbooks CRM has been designed specifically with the needs of fast-growing technology companies in mind. When its founder was unable to find a CRM solution that provided enough end-to-end functionality for the mid-sized IT firm he was working for, he got a team together to design one. The result was Workbooks – the CRM platform designed for IT companies.
Ensure both marketing and sales share complete visibility of the demand funnel end-to-end and optimise your ROI.
TURN CUSTOMERS INTO ADVOCATES
Improve Customer Experience (CX) and enable Customer Success programs by connecting core business functions around the customer lifecycle.
Arm your management team with a single view of the truth to enable faster, more effective and strategic decision making
ADD SCALE TO ORDER MANAGEMENT
Make it easy for your customers to buy, and simplify quotes, renewals and credit control.
ALIGN MARKETING & SALES TO DRIVE REVENUE
Most IT firms are using CRM as a platform to manage contacts and opportunities, track pipeline, help with forecast and analyse the performance of each salesperson, channel, industry sector, product, vendor or reseller.
With a preference towards a digital buyers journey tech companies can take their organization to the next level, leveraging CRM to gain full visibility of the entire sales and marketing funnel.  This visibility creates a common understanding of what it takes for a lead to become an opportunity and the contribution of each team in driving revenue; it helps drive better decision making and enables teams to work together. It also creates  transparency: sales and marketing teams can share a common view on performance metrics (KPIs) throughout the entire funnel, from conversion rates to ROI etc. And they can each measure their contribution effectively.
With better alignment you can significantly increase revenue, profit and return on investment.
ADD SCALE TO ORDER MANAGEMENT
Today, technology firms can benefit from supporting so more of their customer lifecycle in CRM. Expanding your CRM capabilities to include Sales Operations, Order Management and Finance can provide valuable insights into the lead-to-cash process, connecting every element of the business from quoting, through to order processing, reseller discounting, billings and contract management.
Turning quotes straight into orders and tracking them as they are fulfilled and invoiced within CRM reduces administration time and cost. Using features like digital signature simplifies and speeds up the order process and also reduces manual paperwork. Every step of the sales process, from discounting to managing customer on-boarding can be managed and tracked in CRM. There are no additional applications to integrate or buy.  You can take advantage from end-to-end visibility of lead-to-cash with Workbooks CRM, straight out-of-the-box.
TURN CUSTOMERS INTO ADVOCATES
Far from a buzzword, customer success is the weapon of choice of IT firms to increase share of wallet, improve customer satisfaction, and decrease churn.
First, customer success is about providing superior service and support. CRM helps companies manage and enhance their support function: effectively manage cases, track activity history, increase agents productivity whilst reducing admin, measure Service Level Agreements (SLA), spot any customer issues early and deal with them before they turn into problems. From multi-channel support to self-service portal and knowledge base, you can truly support your customer the way they prefer.
Customer Success also includes Account Management. CRM can help by providing a clear picture of the firm's relationships with existing customers, including warranties, service contracts, historical data, subscription status, buying preferences and so on – a 360-degree view of the customer which ensures delivery of the right customer experience. Furthermore, Account management teams can prioritize activity using a Red, Amber, Green system and include customer tiering to support business strategy. When it comes to contract renewal, automation can trigger customer reminders and produce renewal paperwork for a seamless process.
The end result is successful, happy, long term clients.
Knowledge is power, when you can see real-time, granular information on what is happening in every part of the organization you can make smarter decisions about where to target resources and which investments to make at which moment.
Technology firms that connect core functions like marketing, sales and customer service with CRM start quite rapidly to gather a large amount of information about how their businesses operate. The ability to transform this vast amount of information into business insights is perhaps the most valuable aspect of a good CRM strategy.
When companies leverage the reporting power of CRM they start to see long-term benefits, including insights into performance and trends which can aid management teams and enable strategic data-driven decision making. Technology business leaders benefit from being able to quickly identify any challenges facing the business, to monitor which sales channels are performing, provide insights into product consumption, monitor customer satisfaction and preferences, to manage the marketing demand funnel and to identify new ways to drive efficiencies.
As early adopters, most Technology firms are using CRM as a platform to manage contacts, marketing campaigns, sales opportunities and performance.
However, it's the new generation of complete, integrated business platforms that can bring finance and customer service closer to sales and marketing enabling the entire business to operates in a joined up and intelligent way.
WE CARE ABOUT YOUR SUCCESS – WORKBOOKS CRM IMPLEMENTATION SERVICES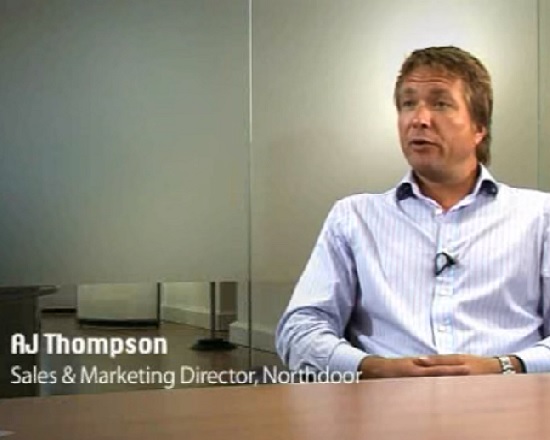 NORTHDOOR SWITCHED
FROM SALESFORCE TO WORKBOOKS
NORTHDOOR a leading system integrator help their customers manage, protect and analyse large volumes of data. Having established that their existing CRM (Salesforce) was only supporting the sales function and didn't extend to include order processing they began looking for a solution which could replace time consuming manual processes.

Since implementing Workbooks, Northdoor now has a central repository for all quotes, orders and invoices, enabling tracking and reporting and reducing order processing time by half.
READ MORE SUCCESS STORIES
WHY WORKBOOKS CRM IS IDEAL FOR GROWING IT ORGANIZATIONS?
Manage your prospect and customer data, segment and target accurately
Maximise your lead generation
Manage all your campaigns and related activities in one place
Know the ROI of marketing activities so you can focus your budget on what really works
Align sales & marketing and ensure timely follow-up of all opportunities
Improve sales execution by implementing best practices
Manage your sales team with real-time reporting and activity tracking
Increase sales productivity with automated workflows, easy collaboration and a mobile app accessible anytime anywhere
Improve forecasting through visibility of your pipeline
Process and deliver sales orders efficiently, from initial quotes to contracts, orders and invoices. Collect cash faster.
Get meaningful insights and make insightful decisions to drive sales & marketing performance
Deliver exceptional customer service, consistently and across all relevant channels
Manage cases, answer customer questions quickly and effectively
Track activity history with a complete view of the customer
Increase agent productivity whilst reducing admin by automating repetitive tasks
Accurately measure your Service Level Agreements (SLAs)
Service your customers the way they want to be serviced
A single 'hub' for managing customer information
Teams & processes management
Performance management and KPIs
Manage the complexity of your eco-system: customers, suppliers, partners